How to Help
Become a sponsor by donating any amount to the Newstart Children's Home (It takes about a dollar a day per child to keep them in school, fed, clothed and cared for.) In addition there are always the upkeep and expansion projects that need to be funded. 100% of your dollar goes to the project – none is used for overhead costs.
Fundraising
Another way to support the Newstart Children's Home is to purchase a cookbook or a CD, the proceeds of which go entirely to support the children.
Donate via Paypal
Musical CD's
Cookbook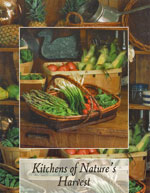 Kitchen's of Nature's Harvest
Click thumbnail to view Table of Contents
---
Order Kitchen's of Nature's Harvest
Just mail us a letter. You may print this form out if you wish.
Please send me_____copies of your cookbook "Kitchens of Nature's Harvest" at $12.99 each, plus $3.00 postage and handling per book ordered.
Please mail the books to:
Name:
Address:
City, State, Zip Code:
Please make checks payable in US funds and To The Order Of:
OMHEF (Overseas Medical Health Education Foundation)
Mail your order to:
The Zimbabwe Orphanage Project
c/o Mary Penner
224 Woodside Road
Brunswick, ME 04011
Phone: 207-725-2218
Email: newstartchildrenshome@gmail.com
Thank You!